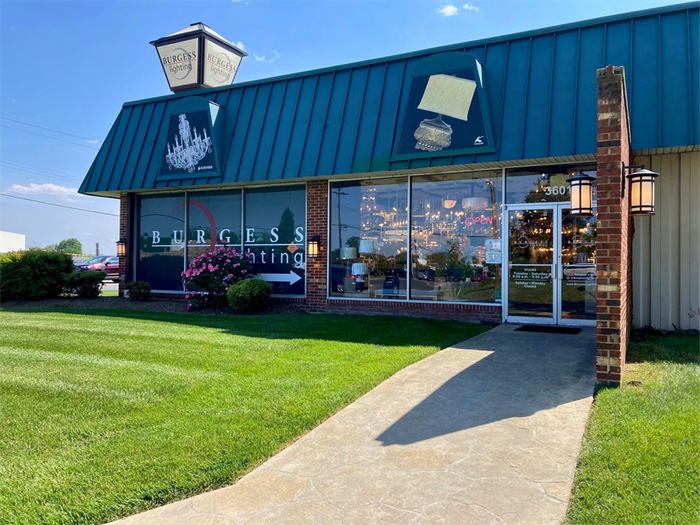 We Don't Just Sell Lighting. We Sell Solutions.
We would like to welcome you to Burgess Lighting. Since 1963, we have been a premier source for lighting products in the Washington, DC Capitol Region. We only carry the best brands of the highest quality, so you'll be getting lighting that will last. Our lighting designers stay abreast of the latest lighting trends, bringing you the best look for your home or office space. Our mission is to help you have the most functional lighting with a gorgeous look.
Please visit our lighting showroom to see our huge selection – you will find it easy to choose the best lights for your home or office when you view the lighting collections on display in our showroom.
Our expert sales staff takes the time to listen to your ideas and help you find the perfect look to match your style. They are knowledgeable lighting specialists who are passionate about helping their customers.
Visit Our Showroom Today
Our lighting showroom, conveniently located just minutes from Alexandria, VA and Washington DC, in Forestville, MD, offers the area's largest selections of brand name lighting for your home, including lamps, mirrors, furniture accents, decorative accessories, framed art, ceiling fans, and more. We work closely with you to understand your lighting needs and match the desired look to your home decor. With years of experience, our lighting specialists carefully recommend light fixtures that are timeless. Our staff is friendly, knowledgeable, and available to answer any questions you may have about our lighting products or services. We want you to have a positive experience when shopping with us, and we look forward to helping you find the perfect lighting solution for your home. Click here for a free in-store lighting consultation from one of our Experienced Professional Lighting Consultants.
Lighting Showroom
3601 Forestville Road, Forestville MD 20747
Tel: (301) 568-8000
Fax: (301) 735-5148
Tuesday – Saturday 9:30 AM – 5:30 PM
Sunday & Monday – Closed
Distribution Center and Administrative Staff Office
3601 Forestville Road, Forestville MD 20747
Tel: (301) 568-8000
Fax: (301) 735-5148