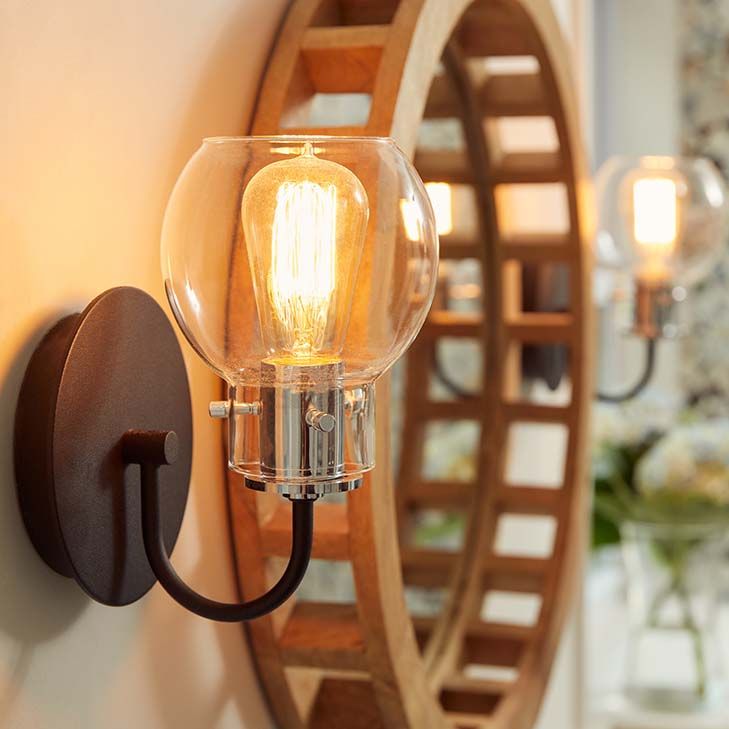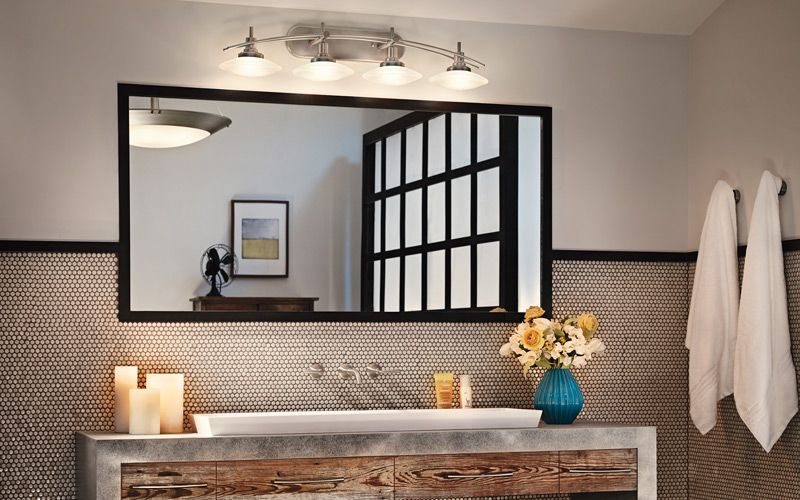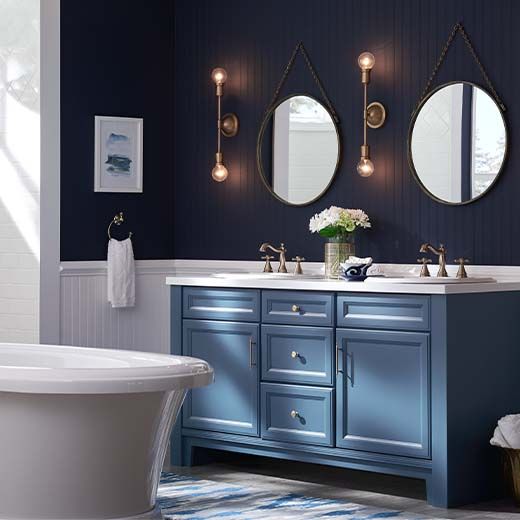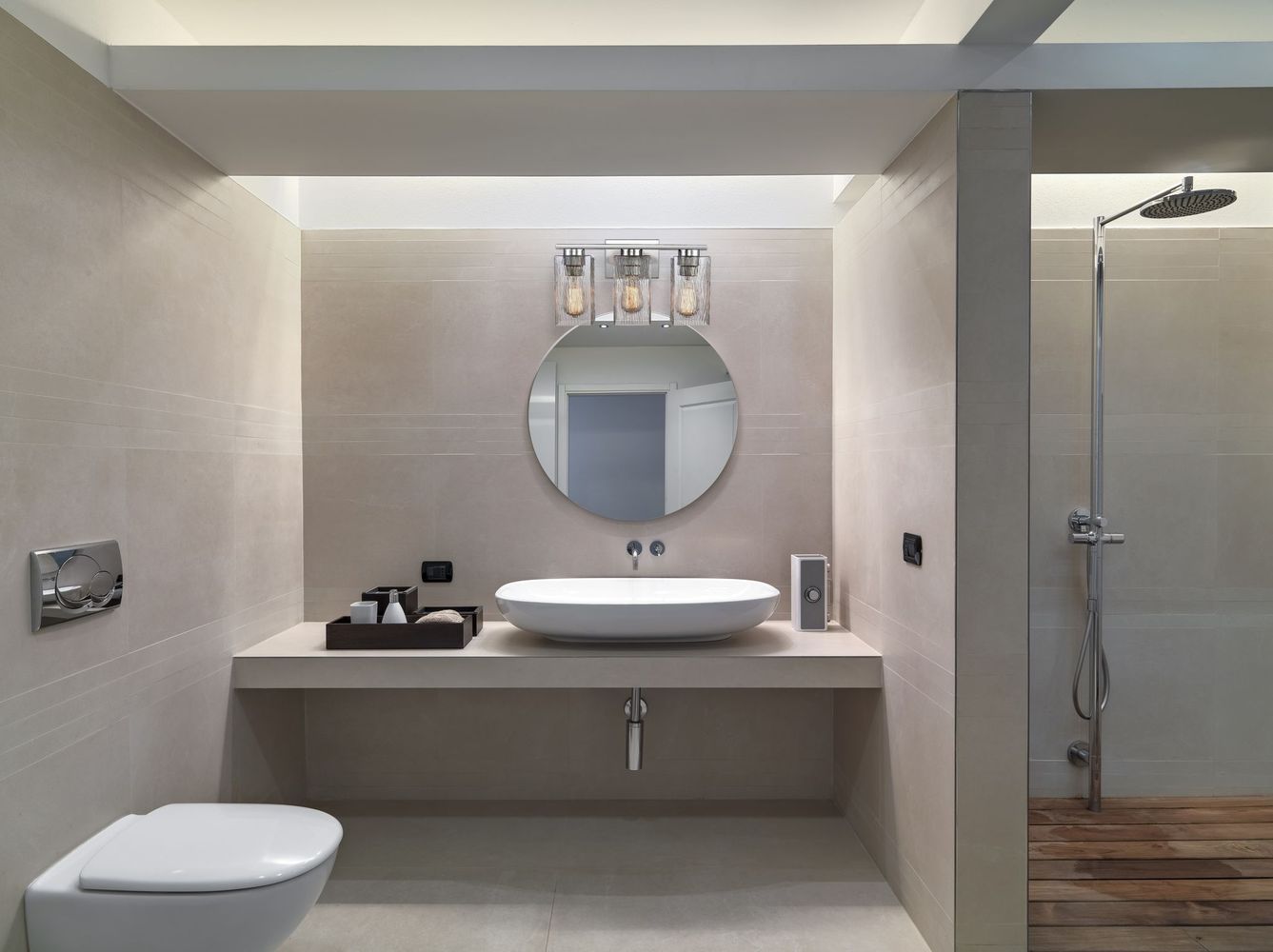 Your day begins and ends in your bathroom, so it's super important to have the right lighting. From task lights to prepare yourself for your day, to soft ambient light to relax and recharge, the perfect lighting choice is so important for this room and its many functions. With many bathroom lighting options available, that perfect light is within your reach.
When choosing bathroom lights, the most important factor to consider is the type of lighting you want. There are a variety of options, including recessed lights, chandeliers, vanity lights, and spotlights. Each type of bathroom lighting has its own advantages, so it is important to consider what you need from your lighting before making a decision. Overall, bathroom lights can be used to create a unique and inviting atmosphere in any bathroom. Whether you are looking for a subtle glow, a dramatic statement, or focused lighting, there are plenty of options to choose from. With the right lighting, you can make your bathroom a beautiful and inviting space. Let our wonderful lighting designers help you craft a beautiful bathroom space all your own. Stop by, or schedule a free consultation today!
Tips to Find the Right Bathroom Lighting
Understand Your Needs: Before you start shopping for your bathroom lighting, it's important to understand your needs. Consider the size of your bathroom, the amount of natural light it gets, and the type of bathroom fixtures you'd like to use. It's important to keep in mind that the lighting should be functional, but also aesthetically pleasing.
Consider the Color Temperature: The color temperature of your lights will affect the overall ambiance of your bathroom. Warmer tones are best for creating a cozy and inviting atmosphere, while cooler tones are better for more modern and contemporary looks.
Take Into Account Your Existing Fixtures: When choosing your lighting fixtures, make sure to take into account the other elements of your bathroom, such as the vanity, countertop, and other accessories. For example, if you're using a modern vanity, you'll want a modern light fixture.
Choose the Right Bulbs: The type of bulbs you choose can make a big difference in the look and feel of your bathroom, so make sure to choose the right bulbs. LED bulbs are the most energy-efficient, but you may also want to consider fluorescent or halogen bulbs for a warmer light.
Install Dimmer Switches: Installing dimmer switches is a great way to control the brightness of your bathroom lighting. This will allow you to adjust the light level to suit your needs, whether you're getting ready for a night out or just winding down for the day. Ask one of our lighting designers for advice today.
Bathroom Lighting Trends
LED Lighting
When it comes to energy efficiency and cost savings, LED lighting is a great choice for any bathroom. LED bulbs are now available in a variety of styles, shapes, and colors, making it easy to customize the look of your bathroom.
Smart Lighting
Smart lighting systems are becoming increasingly popular in bathrooms, as they allow homeowners to control their lighting with the touch of a button. Smart lighting systems can be customized to provide the perfect level of illumination for any occasion.
Accent Lighting
Accent lighting can be used to highlight certain areas of the bathroom, such as a vanity or shower area. This type of lighting is great for creating a unique look and adding a touch of personality to the bathroom.
How to Choose the Perfect Bathroom Lighting
Consider your bathroom's layout.

Think about the function and type of bathroom lighting you want.

Think about the style of lighting, from traditional and contemporary to industrial.

Consider the optimal position of your lighting for desired effects.

Gather ideas at your local lighting store to find the perfect bathroom lighting for your Forestville home today.
SHOP BURGESS LIGHTING TODAY
Burgess Lighting has the absolute best bathroom lighting. From trendy fixtures to the latest technology, you'll be able to find exactly what you need. Ask a certified lighting designer at our Forestville lighting store today!